Милкинг простаты что это
результат изменится..и еще как. ))) ласки простаты , иначе говоря prostate milking — это эротический (а не только ме.
результат изменится..и еще как. )))
ласки простаты , иначе говоря prostate milking — это эротический (а не только медицинский) массаж (стимуляция, ласки) простаты.
стимулировать простату можно пальцем или специальным девайсом, которых полно в секс-шопах..разных размером — от мизинчика до елды в аршин размером. Простату можно стимулировать внутренне или внешне.
Прямой (внутренний) массаж предстательной железы может быть очень расслабляющим и эротическим, а еще это очень здОрово для здоровья простаты. Но канеш просто так от балды его нельзя делать. Ибо если какие-то инфекции или простатит в начальной стадии, то неправильно выполненный массаж может усугубить болезнь или вызвать осложнения.
НЕ медицинский массаж простаты доставляет необыкновенное удовольствие мужчинам, поверьте ))
Некоторым не нравится, потому что есть предубеждение, типа «как так..палец или елду мне в жопу..я теперь не мужик а пидор.»
Ну это зашоренные взгляды мужчин ) не будем до них опускаться.
Опять же..если девушка сделала легкий массаж простаты любимому, необязательно ходить с транспарантом по улицам «мне тыкали в жопу пальцем и мне понравилось»
можно этот секрет оставить при себе и никому не говорить.
Главное знайте — ВЫ НЕ ПИДОР )
массаж простаты, как правило, безопасен для всех здоровых мужчин и регулярное «массажирование» может быть рекомендовано в качестве превентивной меры.
Хотя многие мужчину и получают удовольствие от внешнего массажа простаты, но он не обеспечивает такой интенсивный оргазм простаты как при массаже внутренней простаты. в смысле изнутри
есть масса инструкций по массажу внутреннему.
Но самое важное — ногти коротко обрезаны. Много масла или любриканта, также не надо с нахрапом совать палец мужчине в жо.
надо сначала просто поласкать анус вместе с минетом..
постепенно засовывая пальчик глубже и глубже..когда анальное отверстие расслабится.
в общем, скажем так — чтобы реально добраться внутри до простаты, обычному среднему мужику надо провести несколько этапов и подходов: минет с ласками ануса, потом минет с ласками ануса плюс пальчик на полкарасика, и т.д. пока уже весь пальчик не войдет внутрь )
(не за один день, а несколько дней..такскать подготавливать мужчину)
главное — самой не бояться..
а то мужик испужается..сожмет анальный сфинктер-то..и тюк. в общем ) ниче не будет..но больше он после этого свою попку для ласок не даст )))
если не хотите пальчиком, можно мини-вибраторами или специальными массажерами для простаты. ПРОСТО обычно массажеры простат имеют устрашающий вид.
у мужчин при виде этого массажера может и вовсе нестояние случится ) так что лучше не пугать.
я когда одному своему показала — у него нервный тик начался. «ЭТО я в попу пихать НЕ ДАМ. ПОПУ НЕ ДАМ» и забился под плинтус..мимикрируя параллельно под цвет обоев.
массажировать массажерами..можно только у тех мужчин, которые собсно. не против и страпоном в том числе)
нормальным мужчинам..имхо..хватит и женского пальчика.
The Forbidden Art of Prostate Milking
Hey guys, if you are like most men, you will at least hesitate when presented with the idea of playing with your anus. However, you should keep an open mind as the information below may completely change (and skyrocket) your sex life.
If you don't want to experiment, you may be missing out on insane pleasure.
Why? Simply because close to a male rectal wall is hidden a small, walnut-sized gland that is called prostate. This little "devil" is so sensitive and full of nerve endings that it is also called a "Male G-Spot".
Through its massage (also called milking), you can experience a mind-blowing orgasm that is far stronger than from the stimulation of your penis alone.
All you will need are just your hands, a lot of lube, privacy, and patience. Of course, a specialized sex toy will make everything easier but is not necessary for you to climax.
Table Of Contents
Table Of Contents
Health Conditions & Dangers To Keep In Mind
Before you start with milking the prostate, there are some health-related issues you need to know about. While the practice itself is safe, certain medical conditions can make it really dangerous.
Acute prostatitis – Anyone suffering from this condition can harm themselves by causing blood poisoning
Hemorrhoids – When you irritate the rectum, you can cause hemorrhoids to appear after an internal massage
Prostatic calculi – Small stones that are sometimes found on the surface of your gland can form without your knowledge, and these can scratch the gland causing pain and irritation
Prostate cancer – If you suffer from cancer, milking can cause the cancerous cells to spread all over your body (no massaging should ever be performed in this case)
Many of these conditions can only be discovered after a proper medical examination performed by a doctor. Therefore, I highly recommend you to have a yearly exam before you try to massage your prostate (especially if you are over 30 years old).
Best Techniques To Milk Your Prostate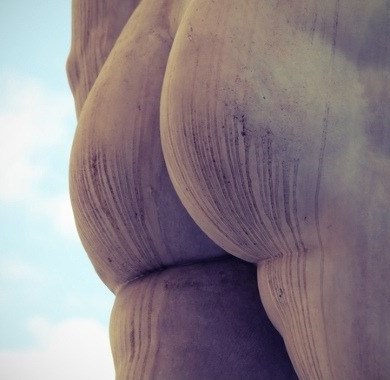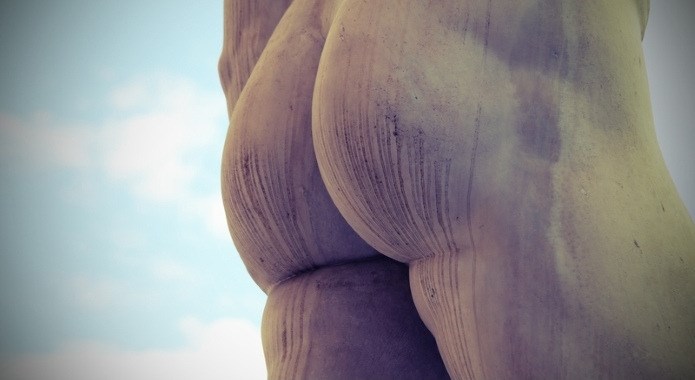 If you want to start massaging your prostate, you need to choose the right technique to avoid injury. Right now, there are two main techniques you can try – external and internal.
External Stimulation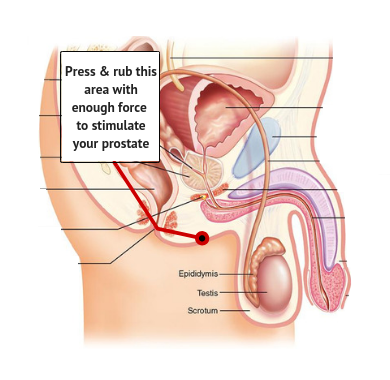 (Modified image from BasicMedicalKey.com)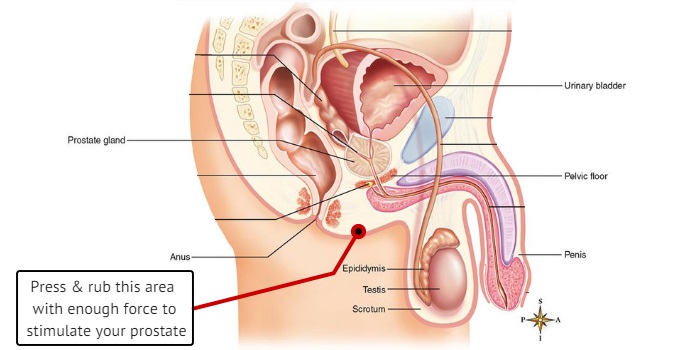 (Modified image from BasicMedicalKey.com)
EXTRA TIPS
Achieve 100% erection
Use a lot of oil-based lube on your fingers and perineum
Best position is to lay down on the bed (on your back)
Stop as soon as you start to feel any significant discomfort
Milking should never cause you any pain
Always cut your fingernails & use a lube to avoid skin irritation
You will need to find the spot that feels the best for you through practice
It produces softer orgasms than internal massage
Extra Tips
Achieve 100% erection
Use a lot of oil-based lube on your fingers and perineum
Best position is to lay down on the bed (on your back)
Stop as soon as you start to feel any significant discomfort
Milking should never cause you any pain
Always cut your fingernails & use a lube to avoid skin irritation
You will need to find the spot that feels the best for you through practice
It produces softer orgasms than internal massage
I understand that a lot of men do not like the idea of anything entering their anuses. Luckily, you can still milk your male G-Spot from the outside and make your love life better.
All you need to do is to follow these simple instructions:
Achieve full erection (this will make your prostate gland swell = more visible)
Lay down on your back with your knees in the air and feet comfortably on the bed
With one hand, reach to your testicles and hold them up
With the other hand locate a perineum (whole area between your anus and scrotum)
Lube up your index, middle and ring fingers and start gently rubbing the point in the middle of perineum (halfway between your anus and scrotum)
Keep stroking your penis with the one hand and massaging with the other
After a while, you should start to feel a soft, but firm spot (this is your prostate gland)
Slowly & gently rub your prostate through this place until you start to feel you are going to cum
At this point, begin pushing harder in small circular motions until you reach a very intense orgasm
To stimulate it externally, you will need to use enough force because you will be pushing through a lot of tissue before reaching your prostate. Obviously, this method requires some practice so do not get discouraged if you can't find the right spot for the first time (or the second either).
Internal Stimulation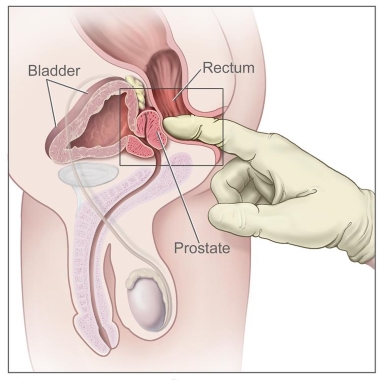 (Image from UrologicalHealthCenter.com)
Extra Tips
Achieve 100% erection
Use a lot of oil-based lube on your fingers/toys and anus
Use special sex toys for easier climax
There will be a release of semen so have tissues at hand
Stop as soon as you start to feel any significant discomfort
Milking should never cause you any pain
Always cut your fingernails & use a lube to avoid skin irritation
Do not use too much force & be gentle when entering anus
Do not touch your cock when internally milking your prostate to experience intense orgasms
Extra Tips
Achieve 100% erection
Use a lot of oil-based lube on your fingers/toys and anus
Use special sex toys for easier climax
There will be a release of semen so have tissues at hand
Stop as soon as you start to feel any significant discomfort
Milking should never cause you any pain
Always cut your fingernails & use a lube to avoid skin irritation
Do not use too much force & be gentle when entering anus
Do not touch your cock when internally milking your prostate to experience intense orgasms
Reaching a P-Orgasm through internal stimulation is not very complicated, but it will require a little practice on your side. Before you begin, it is crucial to choose a position that will be the most comfortable for you.
Here are the five most popular positions among men that allow easy access to the rectum:
Being on both your elbows and knees (great for stimulation by your partner or if using a prostate massager)
Bent over a table or a chair
Laying on your side in the bed (my favorite when alone)
On your back with your knees in air and feet on the ground
Squatting
It is up to you to experiment with positions that allow for easy access to your anus and are still comfortable. If you want to give this practice a try or want to add a little flair to your sex life, follow these steps to get started:
Empty your bowels and take a shower to make everything clean down there
Trim your nails and file any sharp edges you may have
Get yourself into one of the positions above
Achieve full erection to make your prostate more noticeable
Put on latex gloves or you can go skin-to-skin
Place oil-based lubricant (such as Wet Platinum) on your index finger and your anus (you can use special toys instead of your fingers – in this case, use rather water-based lube such as Sliquid "Sassy").
Try to be relaxed (if not, play with your anus for a little bit to make it relax)
Insert index finger into your rectum (do this slowly and gently)
Go 2–3 inches deep (about your second knuckle)
Move the tip of your finger up in the direction of your navel (belly button)
Explore with your finger and try to locate round bulb of tissue inside of the rectum – that is the prostate gland (it has a size of a walnut)
When you are in the right spot, you will notice a different sensation (does not have to be pleasurable)
Once located, gently stroke the area all around it with your fingerpad and avoid its middle (force, speed, and type of movement is very individual so feel free to experiment)
Take your time (it may take up to 2 hours for beginners) and avoid touching your penis to achieve the most intense prostate orgasm
After you achieve the desired number of P-Orgasms, you can begin masturbating to experience very intense ejaculation (have a towel at your hand as the amount of cum will be huge)
This is all that is needed to milk your gland. There may be a significant release of semen from your penis so have tissues at hand. Do not forget to add more lube when needed and if you feel any pain – stop immediately!
Prostate Milking
Prostate milking, also called prostate massage or prostate drainage, is a health technique that men should consider doing to avoid common prostate-related diseases later in their life. Unfortunately, many men are not open to the idea. In this article, you'll find out the benefits of milking the prostate, as well as how you should do it.
The prostate is a male reproductive gland that's about the size of a walnut, found between the bladder and penis. It's responsible for producing and squeezing some of the fluid in semen, which shields and nourishes sperm during sexual intercourse. As men grow older, their risk for prostate problems, like prostatitis and benign prostatic hyperplasia (enlarged prostate), becomes higher.
Aside from conventional medical treatments, there are some medical articles and studies suggesting that regular prostate milking may help prevent or ease the symptoms of prostate problems. Here are some of them:
Prostate Enlargement
One of the common causes of prostate enlargement is BPH or benign prostatic hyperplasia. This condition usually affects men who are 50 years old and above. In most cases, it's non-life-threatening and treatable.
There's no exact explanation for prostate enlargement. Common culprits are hormones (e.g. estrogen, testosterone, and dihydrotestosterone), which may either increase the number of prostate cells or decrease the number of prostate cells that die.
As the prostate gland grows bigger, it partially or completely blocks the urethra (the tube connecting the bladder to the genitals), which makes it difficult to pass urine. Meanwhile, the pressure placed on the bladder causes a person to urinate frequently.
There are many treatments available for an enlarged prostate. One alternative treatment is prostate milking. In one small study, the result showed that patients were able to urinate normally again just after one session of prostate milking. [1]
Prostatitis
Prostatitis occurs when the prostate gland is inflamed. This condition usually affects men of all age groups, but more so on men between the ages 30 and 50.
Managing the symptoms is usually the goal of treatment for prostatitis. It's not entirely clear why it works, but milking the prostate gland may help treat the infection and cleanse the prostate glands.
You see, when there's inflammation, the ducts in the prostate gland constrict. This traps seminal fluid inside the tiny sacs (acini) in the prostate gland, which creates a perfect breeding ground for germs (bacteria). By repeatedly applying gentle pressure and moving your finger in a "come over here" motion, you're improving blood flow, eliminate stagnant fluids, and allow better absorption of antibiotics.
Caveat: Prostate milking is not advisable for acute prostatitis because of the risk of spreading the infection. If you suspect you have acute prostatitis, consult your doctor first before milking your prostate.
Prostate Cancer
Prostate cancer is the second leading cause of death among men in the United States, according to the American Cancer Society. Factors that could increase your risk for this type of cancer are:
Age (50 years old and above)
Family history
Race (common among African-American men)
Inherited mutations in the genes
Many believed that seminal fluids contain cancer-forming substances. Thus, it's only logical to flush out these toxins from the prostate through ejaculation. A research by the Cancer Council's Epidemiology Center suggests that ejaculating seven or more times weekly could protect men from prostate cancer, especially when they started in their twenties. [2] You can cleanse your prostate gland through milking or massaging it.
Erectile Dysfunction
Erectile dysfunction (ED) refers to the inability of the penis to have and keep an erection for sexual intercourse. In most cases, men who have benign prostatic hyperplasia will get ED, and vice versa. There are different things that could cause this condition, like obesity, diabetes, heart disease, tobacco use, cancer radiation treatment, nerve damage (due to prostate surgery), depression, and long-term drug or alcohol abuse.
Conventional treatments for ED will depend on the severity and root cause. Examples of treatments are surgery, counseling, medications, and vacuum erection devices.
Although it's not a mainstream treatment, prostate milking is still a good alternative treatment in some men. It enhances blood flow, which is important for erection to happen. It may even reverse the main cause of ED, which is damaged tissues and nerves.
How to Milk the Prostate Manually
There are three ways to perform prostate milking: internal, external, and device-assisted. Internal prostate milking involves the insertion of a gloved finger or medical prostate massager into the anus. Meanwhile, external prostate milking involves the application of gentle pressure on the area between your scrotum and anus (perineum). Device-assisted prostate milking uses medical massager designed to stimulate the prostate gland.
Milking the prostate can be a tricky job. If you or your partner is going to do this, make sure you understand the underlying principles and the correct way of doing it. If done incorrectly, you could damage your prostate glands, causing other complications. Talk to your doctor to receive proper guidance.
Here are the basics of internal prostate milking:
Self-Prostate Massage
To avoid a "big mess" later during the procedure, make sure you already move your bowels.
Wash your hands and cut your fingernails short. Make sure there are no jagged edges to prevent cutting your anus and rectum (the lower portion of your large intestine that stores stool).
Look for a spot that's quiet and private.
Lie flat on your back, with your knees bended and feet on the bed. Feel free to explore different positions until you find one that you find most comfortable.
Relax your mind and body for an easier and pain-free penetration later.
Spread a good amount of lubricant on your index finger and anus.
Gradually insert your index finger inside your anus until the second knuckle.
To locate your prostate gland, bend your fingertip upward, toward the direction of your belly button. You usually know you already found it because it's roundish when you touch it. You also feel a different sensation, but not necessarily something pleasing.
Massage your prostate gland for a few minutes. Use a gentle yet firm pressure.
Finish off by cleaning the area and washing your hands thoroughly.
Performed by Someone Else
Preparation:
Again, make sure to move your bowel prior to this procedure. If you're constipated, try exercising, drinking 8 glasses of water daily, get enough fiber in your meals, and limit your intake of high fat and low fiber foods. You can also use home enemas to relieve constipation and to detoxify your body.
To relax your pelvic muscles, which control your bowel and bladder, you can take a hot bath or shower. You could also try meditation and controlled deep breathing exercises to relax your entire body, especially your anus.
The person carrying out this procedure should have short nails with smooth edges before starting. That person should wear disposable working or surgical gloves (used with some lubricant) to further protect your rectum from sharp nails or rough skin.
Actual Procedure:
Assume a position that you find most comfortable. You can either lie down on your back (or side) or sit in a chair with your back supported by a pillow and knees placed toward your chest. Make sure there's a mat or towel placed beneath you. Your position shouldn't only make you comfortable, but it should also allow your partner an unrestricted and clear view of your anus and genitals.
Don't hesitate to use plenty of lubricant. This will ensure that the delicate skin lining your anus and rectum will not be irritated or scratched. You can choose between silicone-based lubes and water-based lubes. Perhaps a more important consideration when choosing lubes is its consistency. Thicker lubes are better able to reduce cuts and friction than those lubes with thinner consistency. Alternatively, you could use natural oils (e.g. castor oil) as lubricants.
Your partner should take his or her time in lubricating your anus. The goal is to use gentle circular strokes on the opening of your anus in order to relax it.
Inhale deeply through your nose and exhale slowly through your mouth so as relax the muscles of your anus and rectum.
The succeeding steps are for the one carrying out this procedure:
Stimulate your partner's prostate gland externally by stroking, rubbing, or pressing his perineum (found between the anus and testicles). Experiment with different strokes and pressures to arouse your partner. While massaging, encourage your partner to tell you what stroke or pressure gave him the best sensation.
Once you notice your partner is already enjoying, gently insert your finger into his anus. Allow the muscles of the anus and rectum to relax before pushing a bit further. Bend your finger and make a "come over here" signal with it. Knowing when to apply less or more pressure is important to be able to control the sensations.
Search for a roundish, walnut-sized protrusion, which is around two inches from the rectum. It's easier to find when your partner is aroused. That's why the best time to do prostate massage is when he's already aroused. You could touch his other sensitive parts, like his perineum, with your other hand in order to stimulate arousal.
Maintain eye contact with your partner all throughout the procedure for better intimacy.
After 5 to 15 minutes, you can now start removing your finger(s) slowly. You don't have to wait for your partner to excrete some fluid for it to be successful.
Throw your disposable gloves in the proper receptacle. Clean the area, and don't forget to wash your hand thoroughly.
If you don't want to use your finger to massage your prostate, you can use a medical prostate massager instead. It's a good alternative—if not better than using the finger—because these devices cover more surface. This means there's better blood flow and excretion of stagnant fluids. What's more, they're less likely to scratch your anus and rectum compared to your finger. Depending on the brand, you only need to use it anywhere between 90 seconds and 20 minutes.
Keep the following things in mind to massage the prostate safely with a prostate massager:
Cover up the head of the device with a condom for easy clean up after use and to avoid spreading infection.
Use a generous amount of lubricant and assume a crawling position to make it easy for the device to enter the anus.
Avoid using silicone-based lubricants on silicone prostate massagers because they tend to trap more germs and ruin their surface over time.
If you're having a hard time or find it uncomfortable to use a prostate massager while lying down, you can lean over a table.
Once it's a bit inside the rectum, don't forget to angle the device upwards because this is the right direction of the anal tube. Push it up and down to make sure the head presses against the prostate.
You can use this device again after two days or at least twice a week.
Clean the prostate massager with warm soapy water before and after every use.
Larger prostate massagers are ideal for first-time users. Choose massagers with a rounded and tapered head because they're easier to insert and usually stimulate the correct spot.
Is Prostate Milking Safe?
Prostate milking is usually safe for all healthy males, as long as they know the proper way to do it. However, it's still a good idea to check with your doctor to find out if this technique is appropriate for your situation. There are certain health and prostate conditions that may not benefit from this technique.
Milking of the prostate is healthy, safe, and beneficial. Doctors or healthcare providers use this as an effective alternative or complimentary treatment for chronic prostatitis, benign prostatic hyperplasia (BPH), and other conditions. So if you want to avoid prostate-related diseases later in your life, you may want to consider it.
Микроскопическое исследование секрета предстательной железы (микрофлора)
Выявление в секрете простаты лейкоцитов, эритроцитов, эпителиальных клеток, гонококка и других бактерий, а также трихомонад и мицелия грибов, которое проводится для диагностики различных клинических форм простатита.
Окраска по Граму, секрет простаты.
Microscopic examination of prostate fluid, Microscopic examination of expressed prostatic secretion, Gram stain.
Бактериоскопия сока предстательной железы.
Какой биоматериал можно использовать для исследования?
Мазок на предметном стекле.
Общая информация об исследовании
Микроскопическое исследование секрета предстательной железы – это один из основных лабораторных методов, используемых для диагностики простатита. Отделяемое простаты может быть получено после массажа предстательной железы, сделанного как самостоятельная процедура или в качестве третьего компонента четырехстаканной пробы по Meares-Stamey. На основании полученных данных о количестве лейкоцитов, эритроцитов, эпителиальных клеток, а также наличии или отсутствии микроорганизмов простатит может быть отнесен к одной из 4 основных клинических форм этого заболевания: острый и хронический бактериальный простатит, синдром хронической тазовой боли и бессимптомный хронический простатит.
В норме количество лейкоцитов в исследуемом образце не должно превышать 10 в поле зрения. Большее число свидетельствует о наличии воспалительного процесса. В зависимости от того, удается ли выявить при этом микроорганизмы, простатит разделяют на бактериальный и небактериальный. В норме секрет простаты – это стерильная среда. Однако при его попадании в нестерильную уретру возможно загрязнение образца, в результате чего при микроскопии могут быть обнаружены микроорганизмы, их количество при этом не превышает единицы в поле зрения. Большое число бактерий указывает на бактериальный простатит. Чаще всего при нем удается выявить грамотрицательные палочки (E. coli, Enterobacter, Proteus и др.). У пациентов в возрасте до 35 лет самая распространенная причина простатита – Neisseria gonorrhoeae и Chlamydia trachomatis. Обнаружение большого количества лейкоцитов и грамотрицательных диплокококков может говорить о наличии гонореи, однако для постановки окончательного диагноза проводят бактериологический посев. С другой стороны, данные микроскопического исследования могут послужить основой для назначения эмпирической терапии до того, как получен окончательный результат посева. Идентификация Chlamydia trachomatis с помощью микроскопического или бактериологического исследования затруднена, особенно при хронической инфекции. Обнаружение мицелия или псевдомицелия гриба, а также трихомонад в секрете простаты – это всегда патологический признак, требующий пристального внимания врача.
Отсутствие микроорганизмов в секрете простаты у пациента с болевым синдромом указывает на наличие особой клинической формы простатита – хронического небактериального простатита, или синдрома хронической тазовой боли. Так же, как и в случае с бактериальным простатитом, окончательный диагноз может быть установлен только после получения результатов бактериологического посева.
Другой значимый клинико-лабораторный показатель, оцениваемый с помощью микроскопии, – это наличие эритроцитов и их количество. В норме единичные в поле зрения эритроциты могут присутствовать в секрете предстательной железы. Их повышенный уровень типичен для простатита и аденокарциномы простаты. Следует отметить, что любые воспалительные и онкологические заболевания мочеполовой системы могут сопровождаться появлением эритроцитов в уретре и в секрете простаты. В отличие от заболеваний почек, патология простаты сопровождается появлением неизмененных эритроцитов, что, однако, также характерно для заболеваний мочевого пузыря и уретры. При этом микроскопическое исследование секрета простаты не используется в качестве скрининга рака предстательной железы.
Для получения максимально полной информации о состоянии предстательной железы целесообразно исследовать и другие биологические среды мочеполового тракта (мочу, эякулят). Также рекомендуется проводить исследование секрета простаты с помощью других лабораторных методов (полимеразной цепной реакции и бактериологического посева для идентификации возбудителей). Результаты анализов интерпретируют в сочетании с клиническими и инструментальными данными.
Для чего используется исследование?
Для диагностики различных клинических форм простатита: хронического бактериального простатита, синдрома хронической тазовой боли, бессимптомного простатита.
Когда назначается исследование?
При симптомах простатита: преходящих дизурии, боли или дискомфорте в области промежности и паховых областях, импотенции, болезненной эякуляции, а также немотивированной слабости и отделяемом из уретры.
Что означают результаты?
Референсные значения для различных видов микроорганизмов зависят от их локализации (точки взятия биологического материала).
Причины обнаружения большого количества лейкоцитов и бактерий:
острый и хронический бактериальный простатит;
другие инфекционно-воспалительные заболевания мочеполовой системы: уретрит, цистит;
доброкачественная гиперплазия предстательной железы;
аденокарцинома простаты.
Причины обнаружения большого количества эритроцитов:
острый бактериальный простатит;
механическая травма или хирургическая манипуляция (цистоскопия);
аденокарцинома простаты.
Отрицательный результат (отсутствие лейкоцитов, эритроцитов и микроорганизмов):
норма;
контроль лечения на фоне заболевания.

При подозрении на острый процесс (острый бактериальный простатит) массаж предстательной железы в целях взятия секрета противопоказан.
Результат анализа следует интерпретировать с учетом дополнительных клинических, лабораторных и инструментальных данных.
Кто назначает исследование?
Литература
Sharp VJ, Takacs EB, Powell CR. Prostatitis: diagnosis and treatment. Am Fam Physician. 2010 Aug 15;82(4):397-406.
Meares EM Jr. Prostatitis. Annu Rev Med. 1979;30:279-88.
Wagenlehner FM, Naber KG, Bschleipfer T, Brähler E, Weidner W. Prostatitis and male pelvic pain syndrome: diagnosis and treatment. Dtsch Arztebl Int. 2009 Mar;106(11):175-83.
Muller CH, Berger RE, Mohr LE, Krieger JN. Comparison of microscopic methods for detecting inflammation in expressed prostatic secretions. J Urol. 2001 Dec;166(6):2518-24.